Friday the 13th of August is National Prosecco Day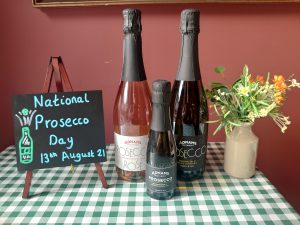 Prosecco has become hugely popular in recent years, with some people considering a good quality one, a better value version of Champagne. The grape was originally known as Prosecco, named after a town in Trieste. It was first mentioned by a British person named Fynes Moryson, who mentioned it in his writings in the 1590's calling it Prosecho.
The trend of this wonderful Northern Italian sparkling white wine has grown and grown since this time, making it the popular choice it is today.
Here in shop we have some lovely bottles available to purchase to aid your celebrating. You will find some cold straight from our chiller or pick up off the alcohol crates with your shopping in preparation to enjoy on the big day.
Cheers!