The Coddenham Parish website is a community service
Providing support for the village and surrounding areas
Local news,  information and help for those facing challenges, including those of the COVID-19 pandemic. Wherever you are located, welcome!

Another great image from the village ©2020 Georgie Kerr. CCRG.
The Coddenham Community Response Group (CCRG)
It's been a busy few months since coming together in March of this year, initially in response to the COVID-19 emergency. Despite suggestions that COVID would be over and Group not required by the summer, we've continued developing into a broader support role, while still providing dedicated support in these continuing COVID times.
Our community website
Since March we have built Coddenham's first ever community website as a platform for communication and engagement amongst the people of Coddenham, the surrounding area and around the world. It provides current local news, a calendar with details of events, classified advertisements (more needed please), sound bites, recordings and opportunities for everyone to have their say.
We've bought together those organizations within the community who wanted to combine their skills and resources to benefit everyone. Representation from the Coddenham Centre, recently the Coddenham Club, the  Community Shop, the Day Foundation, the Gardemau Trust, the Coddenham History Club, St Mary's Church and the Parochial Church Council have worked seamlessly for the benefit of all. We are grateful to every one of them, including benefactors past and present, who have helped provide funding and contributions.
Community support & engagement
This Christmas for example will see more gift parcels being distributed with the help of the Day Foundation, taking distributions to well over one hundred recipients in 2020. We've seen our History Club set out on the path of digitising  Coddenham's valuable records through the website and sharing them with all. We've discussed important local issues and said goodbye to distinguished members of the community. We've also shared accolades, even BBC interviews about the village and cheered each other on. Our volunteers be they in the shop, on our help line, distributing newsletters or maintaining our website have all played a positive and invaluable part in our all working together.
Share this resource
Please share www.coddenham-parish.uk for all the latest news and links to all your community organisations, in this Christmas setting.
And lastly…
For December only, our 'Have Your Say' page will become 'Have Your (Christmas & New Year) Wish'. You can wish for anything, even if its just  'Wishing You a Merry Christmas'  and can make more than one wish! We'd ideally like to achieve 650 wishes, representing one for every member of the Coddenham population, although (good) wishes are open to and welcome from anyone, anywhere.
So we'll  take this opportunity to start the ball rolling by wishing everyone, a very Happy Christmas, wherever you are.
Go here to make your wish (www.coddenham-parish.uk/community-feedback)
The Coddenham Community Support Group December 1st 2020.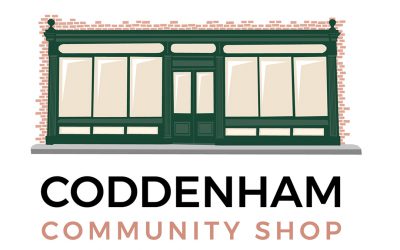 Shop local this Christmas Bliss and the volunteers have been busy finding exciting new products for your Christmas...
read more
The Coddenham Community Response Group
The Coddenham Community Response Group (CCRG) was originally established as The Coddenham COVID19 Response Group to collaborate in helping and supporting the parish, particularly those most vulnerable and isolated. This part of of our role is unchanged, but in September 2020, with the agreement of all those represented, we adjusted our name to reflect our broader collaboration for the benefit of all. We nonetheless remain alert to the ongoing threat of COVID19 and urge anyone in the Parish to make contact if they are in need of support, or know of someone who is.
Our services continue to include:
About the CCRG
The CCRG is an exciting collaboration currently made up of representatives from the Coddenham Centre and website management (Andrew MacPherson), the Community Shop (Rod Stanley-Bell and David McDonnell), the Gardemau Trust, Haysel House and The Day Foundation (Tim Thomas), St. Marys Church and the Parochial Church Council, (Debbie McDonnell). We include the Coddenham History Club and the Coddenham Country Club. There are also many more volunteers who are helping to provide services and community support. We also liaise with Mid Suffolk Council and Coddenham Parish Council.
We meet virtually approximately bi-monthly or on demand, with notes on all our meetings available on request. We welcome representatives from the community either personally or through this website.
We exist solely to serve the community the best we can together.
Follow the latest Government instructions regarding Covid-19
It has never been more important that we support our community and look after our neighbours and ourselves. Please use the links and contact numbers on this website for the very latest information and to request any help and support you need during these unprecedented times.
stay at home as much as possible
work from home if you can
limit contact with other people
keep your distance if you go out (2 metres apart where possible)
wash your hands regularly
Do not leave home if you or anyone in your household has symptoms of Covid-19.
Download the NHS Covid App
The new NHS COVID-19 app, now available to download for free in England and Wales, is the fastest way to see if you're at risk from coronavirus. The faster you know, the quicker you can alert and protect your loved ones and community.
UK Data
This information should be seen in context as the number of tests being made affects the number of recorded cases reported. Fewer daily tests were being made at the start of the pandemic.
There are three simple actions we must all do to keep on protecting each other

Wash hands
Keep washing your hands regularly


Cover face
Wear a face covering in enclosed spaces


Make space
Stay at least 2 metres apart – or 1 metre with a face covering or other precautions

Make your Christmas Wish
For December only  – our comments page becomes – make a wish page
CCRG Newsletter
Download the November 2020 newsletter here
Classified Ads
Promote your business and help us become more self sufficient at the same time
Click the dots • on the calendar for more information, or below for a full page listing.
Emotional Wellbeing Help and Support
Coddenham Parish "Telephone Tree" service: 01449 760429
The Suffolk district council "Home But Not Alone" service: 0800 876 6926 (9am to 5pm, seven days a week)
COVID-19 Emotional Wellbeing Information Hub: brings together guidance, tips and support in one place on the Healthy Suffolk website and can be accessed at: www.healthysuffolk.org.uk/COVIDHub
Village Contacts
If you can offer help, require support or know someone who needs help, please email support@coddenham-parish.uk. Alternatively, please telephone 01449 760313 and if necessary, leave a message. You can also send us a message via the contact page