Local news,  information and help. Wherever you are located, welcome!
Providing support for the village, surrounding areas and beyond.
The CCRG
Coddenham Community Response Group
Our services continue to include:
Your Community Website
Starting out in March 2020 and in September the same year becoming the Coddenham Community Response Group (CCRG),  we have built Coddenham's first ever community website as a platform for communication and engagement amongst the people of Coddenham, the surrounding areas and around the world. It provides current local news, a calendar with details of events, classified advertisements, sound bites, history and opportunities for everyone to have their say.
It's hard to believe that it is two years since the CCRG was founded. Few of us thought that the pandemic would still be with us although, thankfully, the worst seems to be over.
The CCRG is a collaboration between the Community Shop, Coddenham Centre, St Mary's Church/PCC, the Day Foundation and the Gardemau Trusts. The Country Club and History Club are associate members. It has been a fruitful relationship, and both CCRG as a group and its constituent organisations have won numerous awards, both local and national, over the last two years. In March this year, we were pleased to welcome back Coddenham Parish Council to the Group.
From co-ordinating and mutually supporting the activities of its members in helping the village cope with the pandemic, the group has, pleasingly, evolved into a forum where its members and their stakeholders can discuss and plan events for better times.
In conjunction with the Parish Council and facilitated by the Day Foundation, we are currently busy organising Coddenham's celebrations for the Platinum Jubilee of HM The Queen!
Work is continuing on a Coddenham Plan, started last year, which with residents, will start to map out a vision for the future. More details will be discussed and consulted on soon.
A full summary of CCRG activities since March 2020 can be found here (MS.Docx),  but here are a few highlights from the last 12 months:
Lord Lieutenant's Award for Outstanding Community Service (shop)
Re-launch of Baby and Toddler Group (Church, Coddenham Centre, Gardemau)
Grants for educational purposes and to help struggling families (Gardemau)
Runner-up, National Business Awards for Localisation (shop)
Carbon Charter, tree/hedge planting, car chargers for Coddenham, switch to renewable energy and runners-up in Greener Suffolk Awards (Coddenham Centre).
Funding for various community causes (Day Foundation)
Commencement of the digitisation of Coddenham history (History Club).
500th post on Community Website (All)
The Coddenham Community Response Group.
Coddenham Cares
A regular item on all matters environmental in Coddenham.
Jubilee Calendar Photo Competition
Don't forget to enter our photo competition – with a great prize!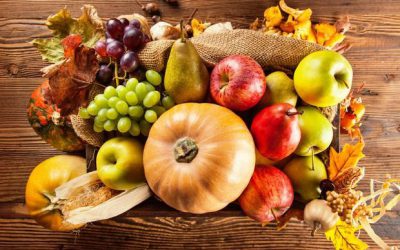 St Mary's Harvest Festival Sunday 2nd October at 11.00am 'Thank You For Your Generosity' - so many reasons to be thankful for all the...
read more
Coddenhams YouTube channel
The Coddenham Community Response Group Terms of Reference
The CCRG originally came together because of a community wish to see a local organised response to COVID19. We have built upon that exciting collaboration along with many more volunteers who are helping to provide services and community support. We also liaise with Mid Suffolk Council, Suffolk County Council and local Parish Councils.
We meet virtually approximately bi-monthly or on demand, with notes on all our meetings available on request. We welcome representatives from the community either personally or through this website. We are a loose collaboration that exists solely to serve the community, avoiding political or personal agenda,  always striving to provide the best we can, together.
Our scope and intent is covered in our Terms of Reference and can be found here.
The Coddenham Community Response Group and the Environment.
Early in 2021 we agreed it was in the interests of the community to promote an awareness and response when we could to the environmental emergency. There is no intention to 'preach', but to simply support initiatives and share learning on what we can contribute as a parish, to the national movement for a zero carbon country.
The Coddenham Centre and the Day Foundation already have initiatives in place and other members of the group are developing their own awareness and environmental agendas. We have  added a dedicated page to this site to report on progress and publish features on the environment. If you have any proposals or news of your own ideas, please get in touch by emailing support@coddenham-parish.uk.
Covid-19 information & updates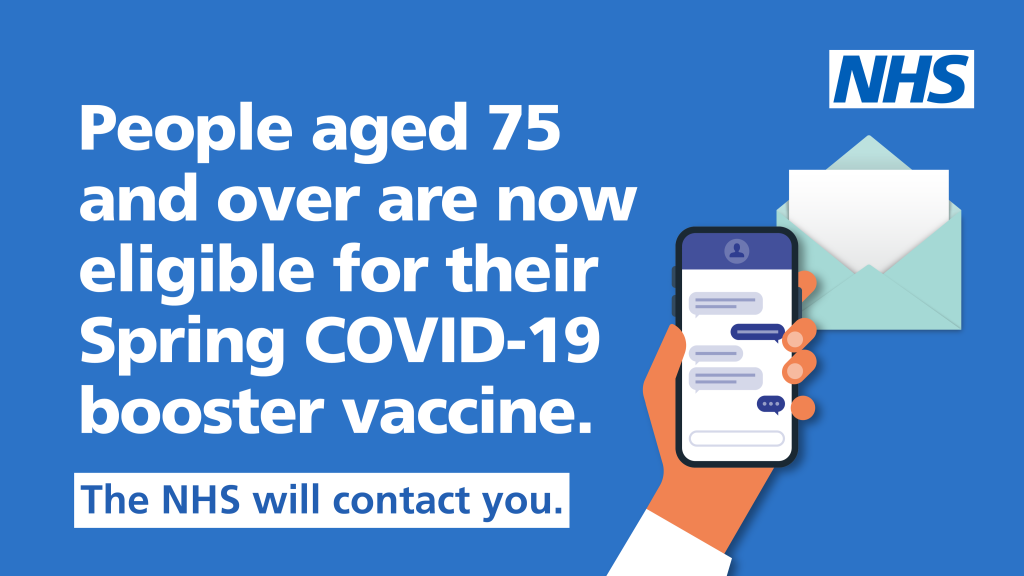 Follow the latest Government instructions regarding Covid-19
It is important that we continue to support our community and look after our neighbours and ourselves, whatever the level of alert. Please use the links and contact numbers on this website for the very latest information and to request any help and support you might need.
Do not leave home if you or anyone in your household has symptoms of Covid-19.
UK Data
This information should be seen in context as the number of tests being made affects the number of recorded cases reported. Fewer daily tests were being made at the start of the pandemic. As of the end of February 2022  data is no longer published over the weekend and is integrated into the figures on Monday – hence the large dip and rise in the graph.
Community and local history
Check out the History Club pages. Articles from hundreds of years ago, to the present.
CCRG Member Feature - Spring 2022
The  next in our CCRG member features is The Coddenham Community Shop, compiled by fellow CCRG member – The History Club.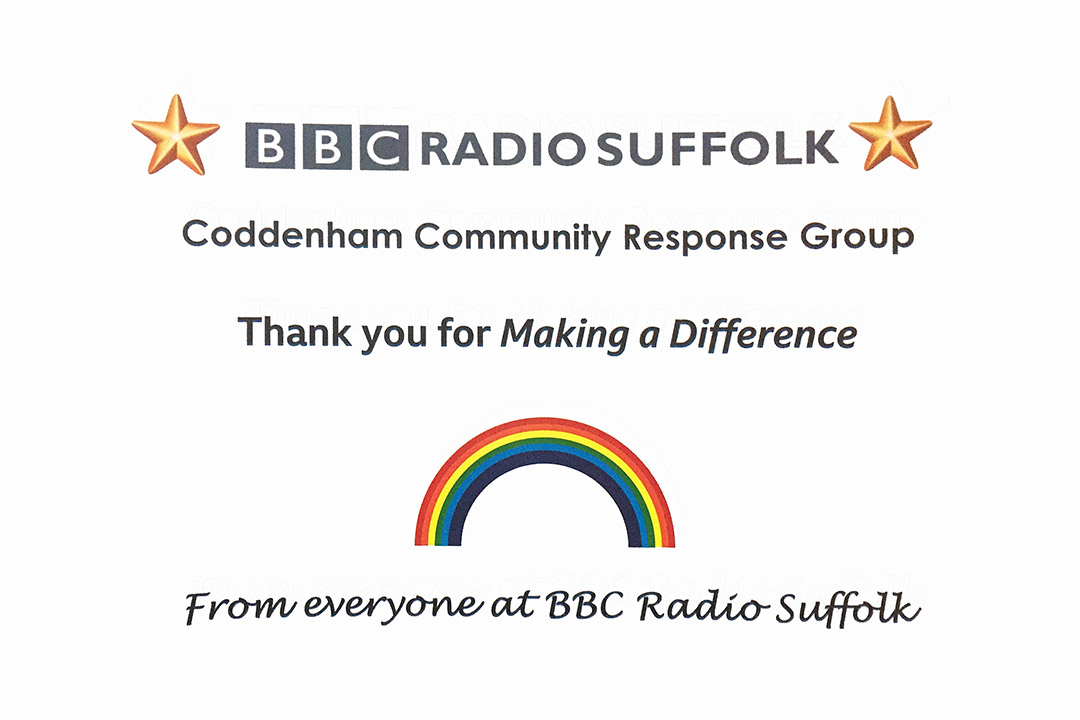 Community Engagement
Some more of the Story So Far
Looking back last year, in Christmas 2021 we saw goodwill parcels being distributed to Haysel House again with the help of the Day Foundation. The History Club continue to digitise Coddenham's valuable records through the website and shared them with all. We've continued to respond to local issues such as prompting action on our Broom Hill, supported the strategy for a Greener Suffolk and celebrated new local authors. Sadly we again said goodbye to some members of the community. Happily however, we all got together and celebrated the Recreation & Sports field 100th birthday.
We've previously shared accolades, including the BBC Radio  Suffolk 'Making a Difference' Award,  BBC interviews about the village and always cheered each other on. Our volunteers be they in the shop, on our help line, distributing newsletters, working with the Church or Coddenham Centre or maintaining our website, have all played a positive and invaluable part in our all working together.
We are members of the  Suffolk Good Neighbour Network and committed to ensuring the Environment was added to our community agenda. In 2021 we had our First Birthday which we celebrated in a newsletter here.
Share this resource.
Please share www.coddenham-parish.uk for all the latest news and links to all your community organisations.
The Coddenham Community Response Group 2022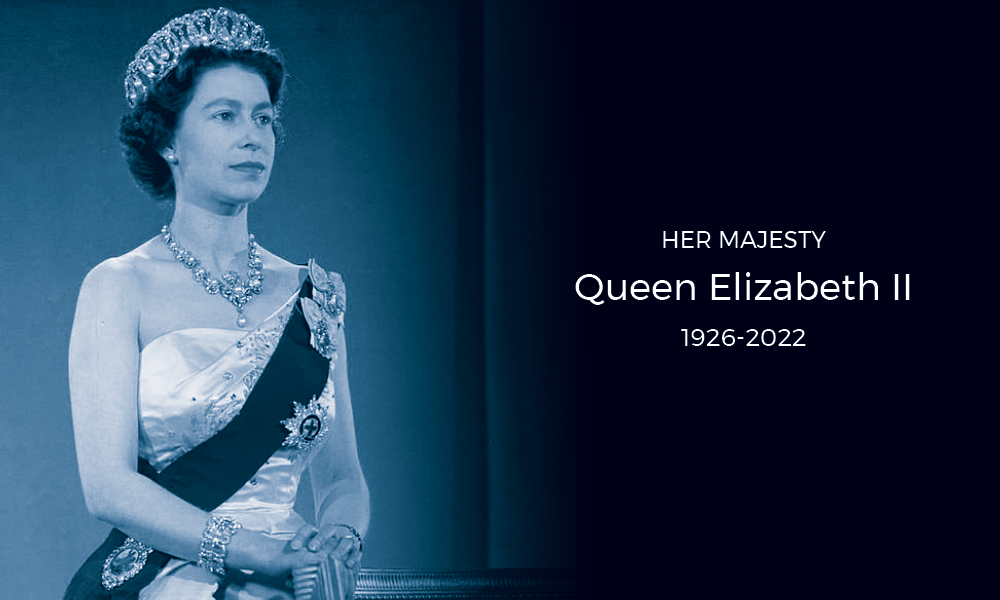 Image: ©Creative Commons: Queen Elizabeth II official portrait for 1959 tour.jpg
Have Your Say
Got an opinion, compliment or community concern?
CCRG Meeting Minutes & Notes
Notes on all your Coddenham Community Response Group's (CCRG) meeting are available in the downloads section.
A Second Birthday Message from your CCRG
So, it's been a full year! We are all looking forward to the Jubilee, Open Gardens and Scarecrows and the Village Fete later in the summer. We are also delighted that the refreshed Parish Council has recently decided to re-join, making the Group a complete representation of the community's charitable, statutory and voluntary bodies. Coddenham is a great place to live, with a wonderful community, and we would like to pay tribute to everyone who has helped in any way to get us through the last two difficult years. We couldn't do it without you!
The Coddenham Community Response Group.
Click the dots • on the calendar for more information, or below for a full page listing.
Coddenham
18°
Sunny
6:58 am6:31 pm BST
Feels like: 18°C
Wind: 16km/h NW
Humidity: 51%
Pressure: 1020.32mbar
UV index: 3
18°C
17°C
15°C
13°C
12°C

18/11°C
20/14°C
20/8°C

Emotional Wellbeing Help and Support
The Suffolk district council "Home But Not Alone" service: 0800 876 6926 (9am to 5pm, seven days a week)
COVID-19 Emotional Wellbeing Information Hub: brings together guidance, tips and support in one place on the Healthy Suffolk website at:
www.healthysuffolk.org.uk/COVIDHub
Village Contacts
If you can offer help, require support or know someone who needs help, please email support@coddenham-parish.uk. Alternatively, please telephone 01449 760313 and if necessary, leave a message. You can also send us a message via the contact page
Coddenham Community Shop
Your community shop, working with, and for the community of Coddenham.
The Coddeham Centre
A centre for recreation, celebration, learning, sport & enjoyment, accessible to all.
St Mary's Church Coddenham
The church that has been at the heart of the village since the 11th century.
The Country Club
A warm welcome to residents and visitors alike.
Classified Ads
Promote your business and also suport the website.
Bus Timetable
Local Bus timetable from Bustimes.org
Coddenham History Club
Recording and sharing Coddenham's rich history.
The Day Foundation
A vibrant local charity forever linked to Coddenham.
The Gardemau Trust
Five charitable funds started in the fourteenth century.
Want to see whats happened over the Last Year?
You can look back at events and notices for the Parish or Search