Coddenham Village History: The Duke's Head
From Tudor times to the twenty-first century
From Tudor times
When ale and beer were safer to drink than water it was not necessary to have a licence to sell them provided good measure was sold. It is thus possible that the building that became the Duke's Head was an ale house in Tudor times. Wines were subject to import tax so they could only be sold on licence (licensing acts came into force in the 19th century).
The Duke is a grade II listed building of about 1600 with 18th and 19th century alterations. It has a pebble-dashed exterior over a timber frame with 18th century casement windows on the first floor, 19th century sash windows and entrance door. The roof is plain tiled with one 20th century casement dormer window and an end chimney of red brick. Internally some late 16th or early 17th century framing is exposed with a blocked diamond-mullioned window and heavy unchamfered floor joists, suggesting to English Heritage an earlier core. 'The left-hand section of the building was probably rebuilt C18,' according to the listing.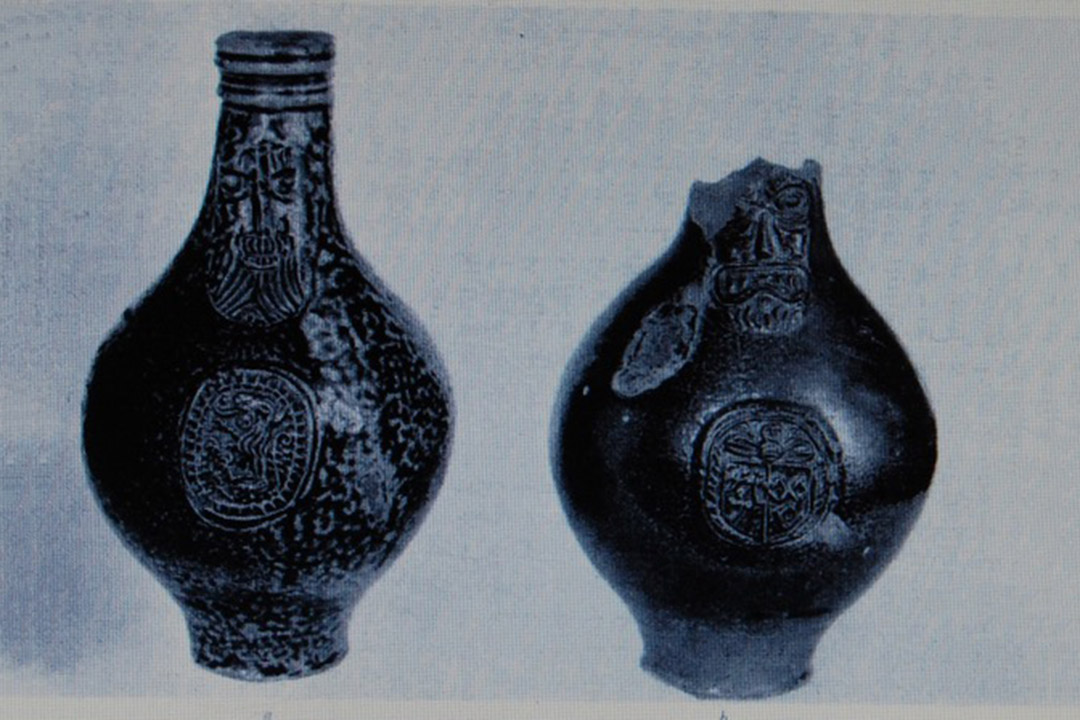 Photo: Bellarmine jugs
Two so-called Bellarmine jugs of the seventeenth century found at the Duke's Head in 1955 by Alfred Waspe, are reproduced from the Suffolk Institute of Archaeology and History report mentioned below. They help to date the building. The complete bottle is thought to be a 'witch bottle'. The other was found in the garden and may have been used as a lamp.
What's in a name?
The name of the pub probably refers to John Dudley, Duke of Northumberland, born in 1504, executed in 1553 for leading the plot to crown Lady Jane Grey, his daughter-in-law. She, along with her husband, Guildford Dudley, suffered the same fate. Among other family members were Robert Dudley, earl of Leicester, afterwards a favourite courtier of Elizabeth I, and Sir Henry Sidney, father of the poet Philip.
The family was Puritan in religious outlook, not inconsistent with public houses in those days. Many of Elizabeth's courtiers were of that persuasion. The name of the pub may thus have been given in tribute to someone regarded as a martyr. Jane Grey had been intended to replace the Roman Catholic Mary Tudor, who married Philip king of Spain. He was to send the Armada against England in 1588.
We have no way of knowing how or when the Duke's Head became an ale house. It was not uncommon for women with no other income to brew and sell beer. This was particularly so for widows and continued until recently. One widow succeeded her husband at the Duke's Head in the 20th century (see below).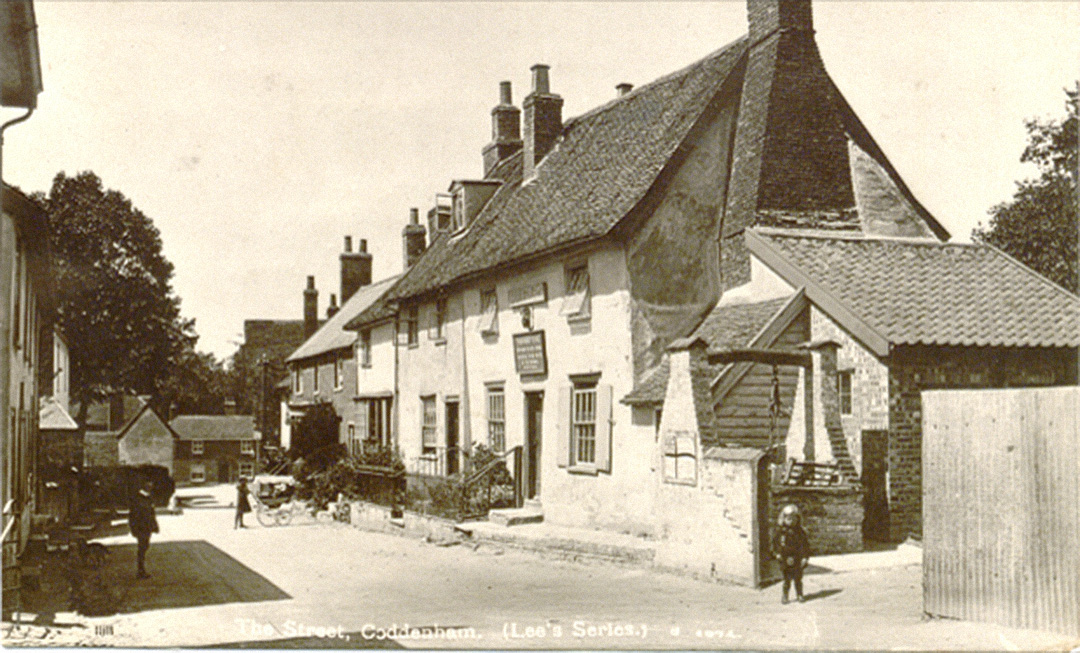 Photo: An old postcard of the Duke's Head and High Street with generalized sign c1904
Landlords
Landlords of the Duke are known with some confidence from the list compiled, partly from census returns, by CAMRA (Campaign for Real Ale). William Chaplin is named in 1861 but only speculatively at the Duke's Head. James Diggins is named in 1891 and Oliver Fosker in 1901, with Arthur Turner in 1911, identified as a licensed victualler. This meant he could sell food as well as beer.  Frederick Ellis succeeded him a year later.
On Frederick's death in 1932 his wife, Ellen, took over. She maintained the licence, perhaps with her son-in-law Alfred Waspe, until 1970.  He was reported in the Proceedings of Suffolk Institute of Archaeology and History as having found a 'witch bottle' (shown above) beneath the hearth. This contained several corroded pins, suggesting they had once been used as a protective or apotropaic device against evil, perhaps by piercing a heart-shaped piece of fabric. The bottle was 17th century in date, giving a possible date for construction of the hearth. It might thus have been a charm against witchcraft, with local witchfinder Matthew Hopkins active at that time. Alternatively, given the Puritan beliefs of people in Coddenham, it may have related to King James II, deposed for attempting to reintroduce Roman Catholicism to England. Gordon Parker became licensee in 1970, David and Eileen Smith held the licence in 1981 and in 1987 Ronald Cole followed.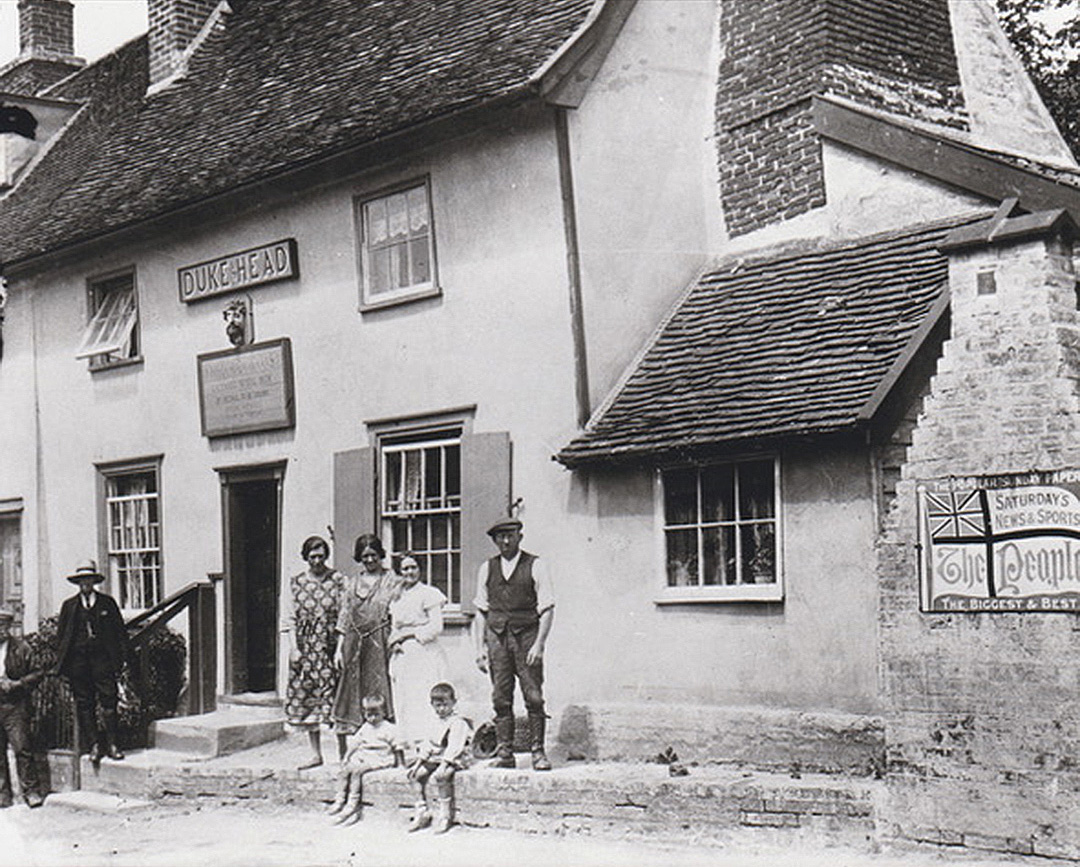 Photo: The Ellis family at the Duke's Head. There was no sign in their day (EADT 1990).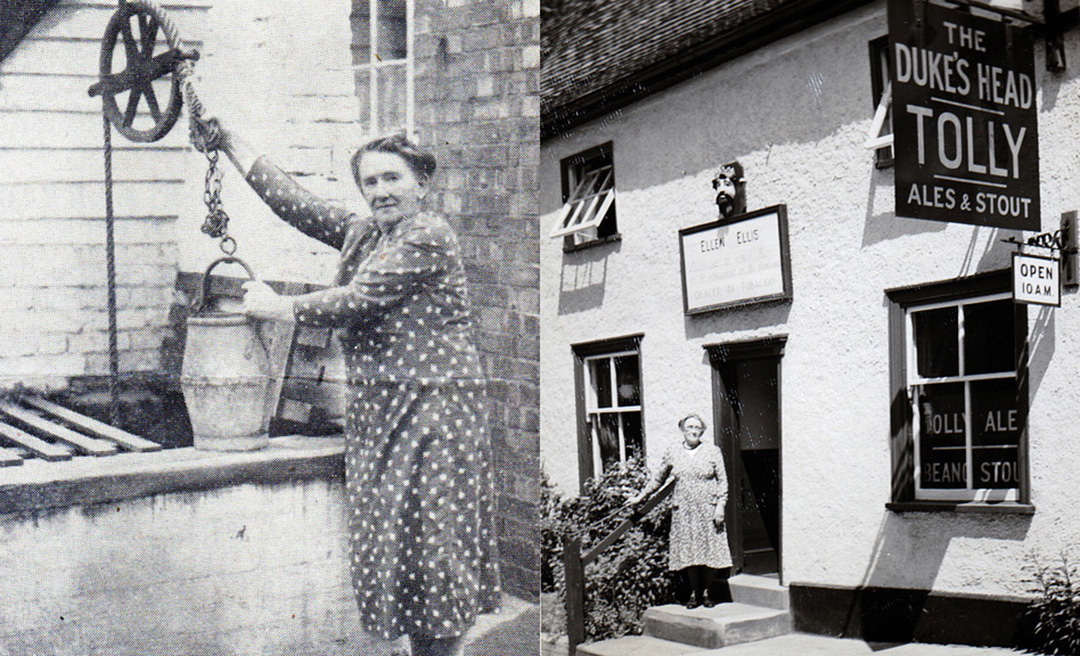 Photo: Mrs Ellis as sole licensee after Frederick Ellis died. And the well which is no longer visible.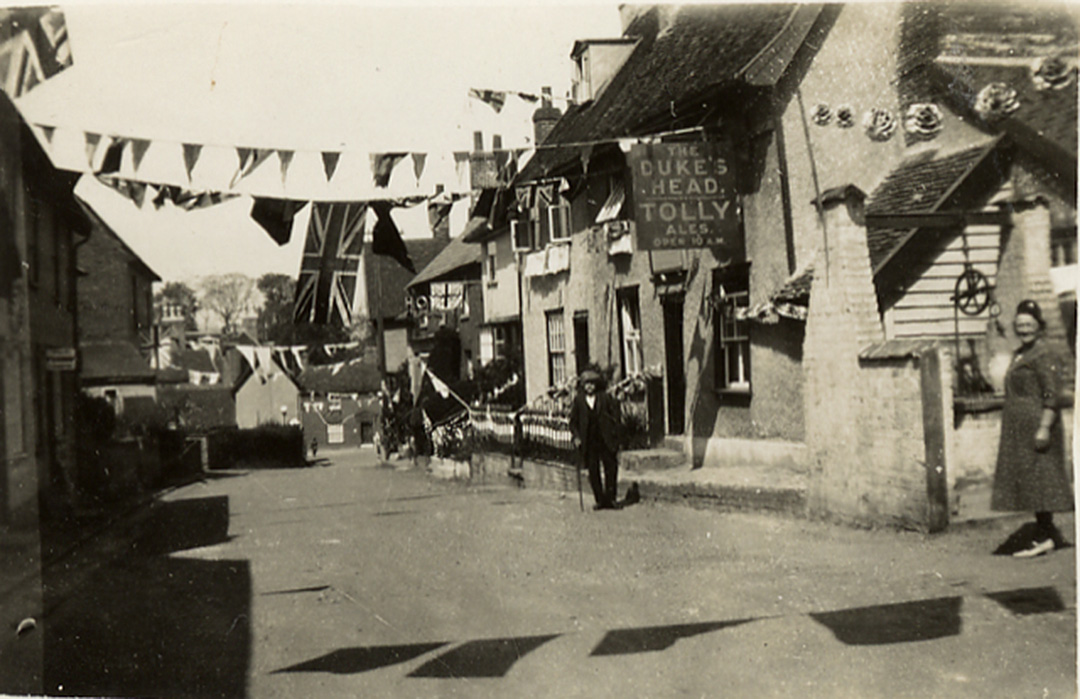 Photo: The Duke's Head decorated as part of the Coddenham celebration of the jubilee of George V in 1935, three years after Frederick Ellis died.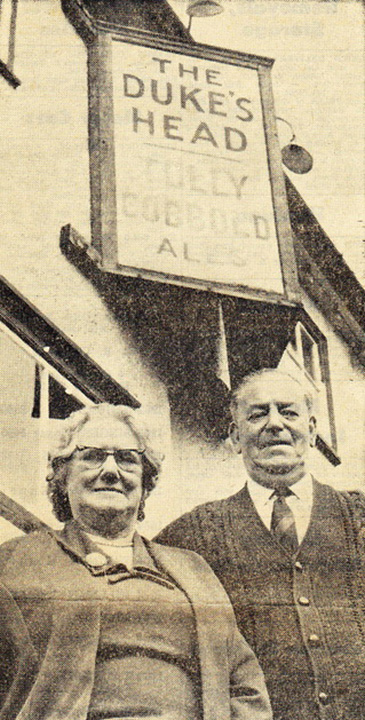 Photo: Mr & Mrs Alfred Waspe
The Letter
During the second world war the Duke's Head became popular with American servicemen in the Coddenham area. One of them wrote afterwards to Mrs. Ellis: 
"If I lived to be a 100 years old I could never forget the kindness of you and your family. Believe me when I say that the most enjoyable moments I spent in your home. I always felt that your place was my home in England.
It is people like you, your family and friends in Coddenham that have done more to cement relations between our countries than all the diplomats in the world could have done. From my contact with you I understand the English and their viewpoints and you understand me."
The Sign
The pub sign was replaced with a generalized 'duke' a few years before closure. Coddenham Village History Club questioned the use of this sign and an image of Dudley was restored. There is a bust in relief of a bearded man facing the road above the door.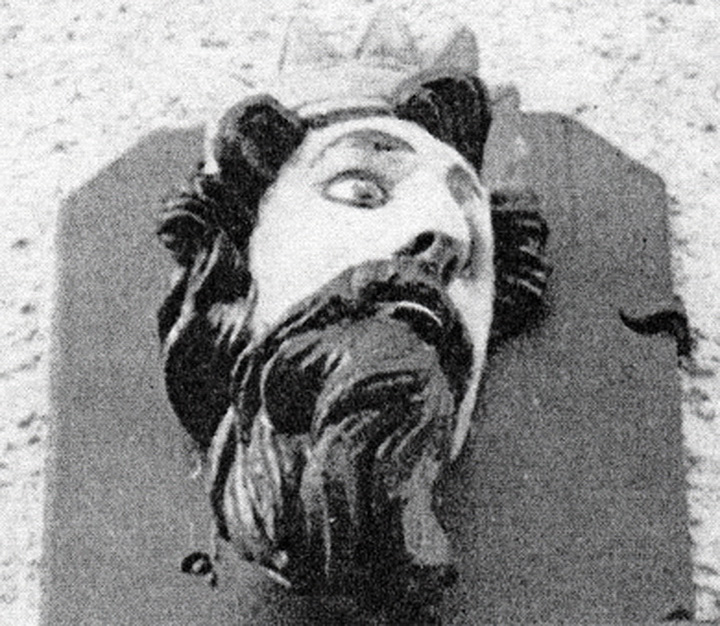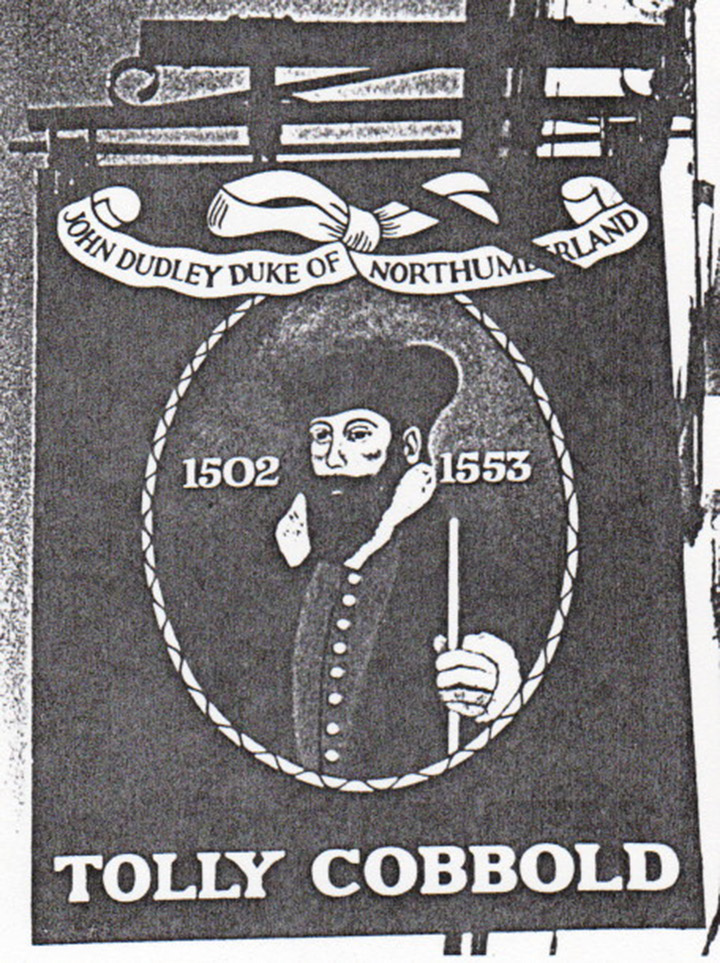 Photo: The original pub sign gave John Dudley's date of birth wrongly as 1502.
The 1970's
When Gordon Parker became licensee in 1970, food was introduced. He was the chef and his wife Georgia was "front of house." It became a very popular place to both eat and drink, attracting customers from far and wide. Favourable comments appeared on the CAMRA website.
Giles – the cartoonist
The Dukes Head was often used as a watering hole by Karl Giles the cartoonist. He was an astute judge of character and not much escaped him. There are some men here who may have been recognizable to older members of the community! Cartoons from EADT (East Anglian Daily Times).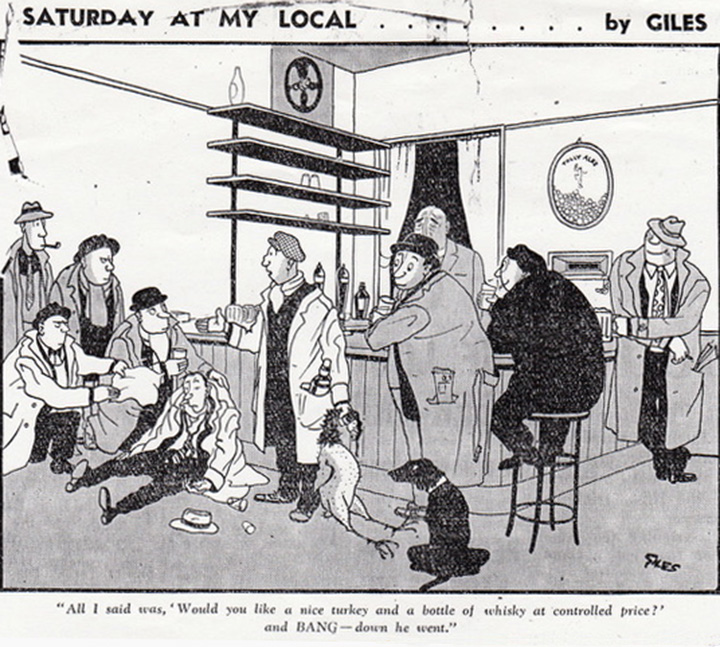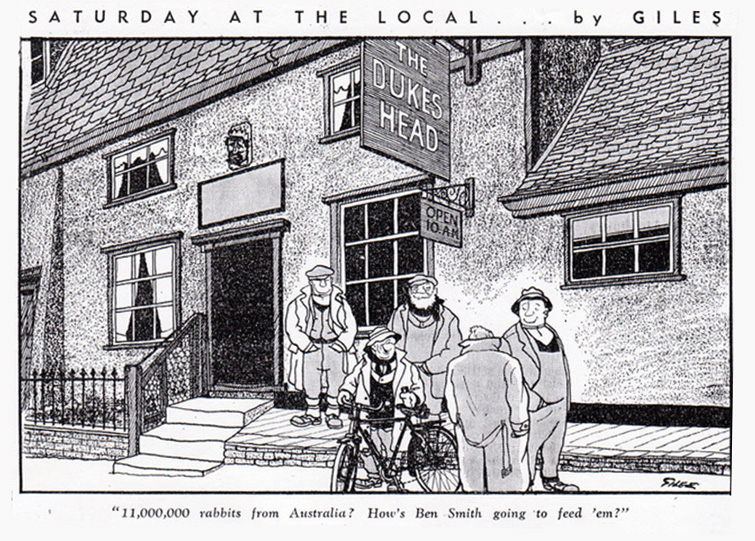 The 1980 – 2014
David and Eileen Smith held the licence in 1981 and 1982. In 1987 Ronald Cole followed. The Duke's Head finally closed in 2014, a few years after being purchased from the brewer Tolly Cobbold, with staff on a basis of tenancy.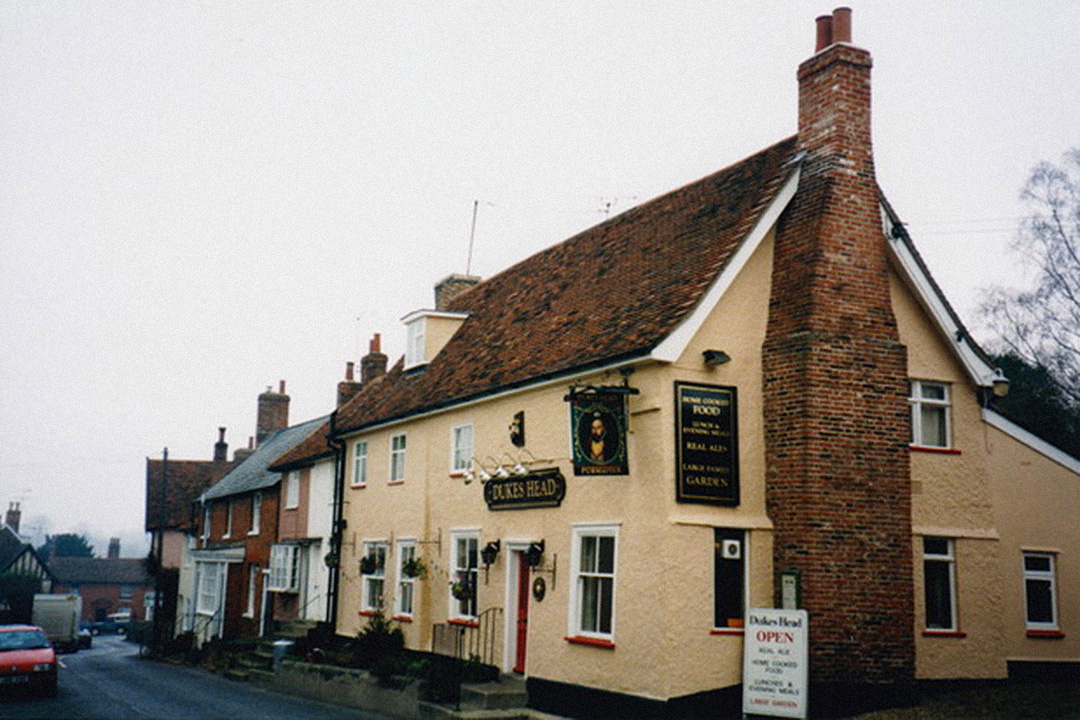 Present Day
Several attempts were made by the purchaser to obtain planning permission for houses on the garden area of the pub but all were rejected. A group of local people tried to lease the premises as a community pub, without success. Briefly there seemed a possibility that the owner might agree to link their plan to a coffee shop and food outlet but negotiations again failed.
Public house to private dwelling
A final proposal was made, to change use from public house to private dwelling and restore the building. This was agreed on condition that any archaeological or historical evidence that might be discovered during the work be recorded and if possible preserved. While further witch bottles are unlikely there may perhaps be burn marks, as are found in other old buildings in Coddenham. It is thought these were also apotropaic signs to ward off fire risks. Another possibility, as has been recorded in one cottage, would be to discover a mummified cat. Details of the mullioned window should also be recorded.
Sylvia Bickers and John Pelling
December 2020