The Suffolk Chocolatiers, Marimba World, now have items available in store.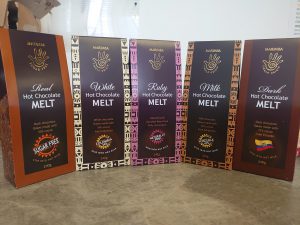 Lots of lovely new items available; Chocolate selection boxes, truffles, fudges, chocolate buttons, thins, chocolate coated goodies and their famous melts in lots of lovely flavours.
The Marimba Hot Chocolate Melt range is delicious and luxurious, made from real flaked chocolate from top quality cocoa beans. It is available in white, milk, dark, sugar free and ruby varieties, each equally indulgent. Using beans from Colombia, Venezuela and Ecuador, all selected for their distinctive flavours when blended with milk. A great choice for any hot chocolate lover or makes the perfect gift for a loved one.
Why not give them a try and let us know what you think!