Mayes Fisheries is due to return to Coddenham on Wednesday 16th February 12.30pm-1.30pm
We would like to give a warm welcome back to Clive, after a difficult stint in recovery for a broken leg, he is making his return with his much loved fish round to the village! Clive will be located outside the shop regularly again on Wednesdays.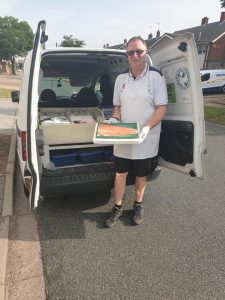 Clive will be situated just outside the shop front with lots of lovely fresh and frozen fish products. These are available to come down and purchase within this time slot or you can pre order with us at the shop. We will then hold these for you until a time suitable to collect and take payment in the shop.
Limited stock is also available in the fridge and freezers of the shop at all times.
Follow Clive on the link below for updates on products available or ask us here in store