Shop local for all your Easter treats.
The Community Shop has a wide range of Easter Eggs and other chocolate goodies.
A range of Easter bakes will be available including Hot Cross Buns, Easter Nests, Cupcakes and Chocolate Scotch Eggs.
Take a look at our lovely range of Easter cards.  Stamps are available from the till for last minute postings!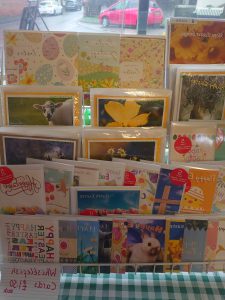 Meat orders for your Easter roast must be made by 4pm on Tuesday 30th March – call 01449 760313.
Easter Opening Hours
2nd April – Good Friday  8.00am – 4.00pm
3rd April  – Easter Saturday 8.00am – 4.00pm
4th April – Easter Sunday CLOSED
5th April – Easter Monday – 10.00am – 2.00pm