Services in the North Bosmere Benefice on Sunday 18th September will include commemoration for the life of Queen Elizabeth II.
Services are as follows:
9.30am Zoom Morning Worship.  To join this service please email –  northbosmerebenefice@gmail.com
9.30am –  A special commemoration service marking the death of her late majesty Queen Elizabeth II
9.30am Commemoration for Queen Elizabeth at Crowfield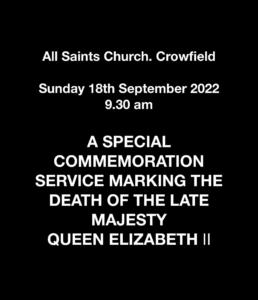 11.00am Holy Communion BCP at Creeting St Peter
11.00am Commemeration and Holy Communion at Gosbeck
All are welcome.  Books of condolence have been placed in all the churches for those who wish to sign.