Despite heavy downpours during the set up and a chilly wind St Mary's, welcomed villagers to its outdoor Christmas celebration.
Held in the churchyard, the story of the first Christmas was retold and beautifully illuminated thanks to David Miller and Gavin Hailes.  A local family portayed the characters from the story and Charlotte Fawdry led the singing of traditional carols.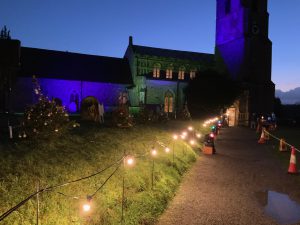 The rain held off during the service and a socially distanced congregation of around 80 enjoyed this meaningful service.
Many thanks to all those who made it possible and particularly to Judy Hailes for her unerring enthusiasm and Ian Galbraith for his musical arrangements.
The nativity figures can be viewed through the porch window and the beautifully decorated Christmas trees still line the path.  Even though we can't meet regularly in inside church, we hope that the message of the first Christmas can still fill us with hope and joy.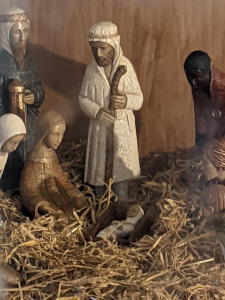 Christmas blessings to you all.