How quickly the scene changes.
A few moments ago, the sky was grey, the light had dimmed and snow was falling heavily.  Large flakes danced and swirled gently past the study window, covering once more, paths recently brushed clear.  Now there is a complete transformation, the snow has stopped falling, the sun has returned.  The willow in the Rectory garden glows in the sunlight; the green and yellow hues of lichen covered branches, contrasting clearly with the bright, wintry blue sky behind.  For days now the lawn has been blanketed in snow and when the sun shines the icy surface glints and sparkles.  In a matter of moments, the clouds pass, colour returns and beauty is revealed.
Each time the sun returns, the snowy blanket thins and a little more green is revealed.  A few days before the snow fell, clumps of snowdrops had broken into flower, and a few early hellebores were opening beside them.  We rejoiced at the first signs of spring.  Now they lie hidden once more, but look carefully and signs of life are all around.
This snow that has blanketed the earth for several days, tells its own story.  Boot prints cross the lawn where we topped up feeders.  Birds footprints clustered near those same feeders telling us our labours are important.   A feathery hollow shows where something found the snow too soft for standing on and sunk up to its chest.  And now the slowly melting snow reveals the green beneath.  Soon, winter will slip into spring.  Soon the world around us will be busting with new life; soon, but not yet.  We must be patient.  Winter too has its beauty and its purpose.  While the sun glints on the icy snow and the bare branches of the willow gleam against the wintry sky, I will enjoy the beauty of that moment. Spring can wait a little longer.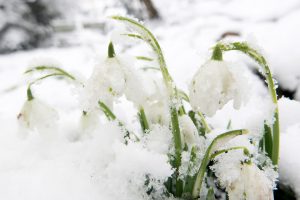 Rev Philip Payne
The Pew Sheet for 14 February can be found in Downloads