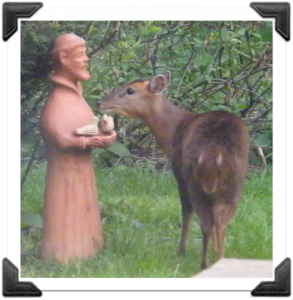 St Francis made his home with us a few years ago.
Each summer he stands in the garden in quiet contemplation.  Like me, he doesn't take kindly to too much frosty weather and so spends the winter under cover.  Now, with the worst of the winter past and with warmer weather in prospect he has come out to enjoy the garden once again. A few mornings ago, he had a visitor.
This picture was captured by Mary.  The muntjac had paid us a rare visit; passing slowly and inquisitively round the garden.  Much of the time she stood, almost hidden, in the undergrowth but for a few moments she came into the open.  Then we saw muntjac and saint in intimate conversation, I wonder what they shared?
Birds, especially robins, are his regular companions, but this was the first time we had seen Francis face-to-face with a deer; a moment to savour.  Genesis reminds us that God saw everything that he had made, and indeed it was very good (Gen 1:31).  Francis preached the Christian teaching that God created all the world good and beautiful.  Sin is what spoils the world, and why we are in need of redemption.  Jesus came, lived and died with us; then rose again to overcome the effect of sin.
Francis gained a reputation for his love of, and care for the natural world; a care which has a personal dimension.  Today we are increasingly aware of our responsibility for the natural world; together with our ability to destroy or to husband it.  We are also beginning to learn afresh that we are as much an integral part of this, God's creation, as the grass and trees, birds, insects and even a passing muntjac.
Love your neighbour as yourself Jesus reminded us (eg: Leviticus 19:17, Mat 22:37-39, Mark 12:31).  Seeing muntjac and saint in conversation; I ask myself, Who is my neighbour?
Rev Philip Payne                                                    The Pew Sheet for 2 May 2021 can be found here
And before you ask; on this visit the muntjac didn't eat anything she shouldn't.
.