Although not Covid19 related, we feel as a source of your local news in these difficult times, we should report the passing of Helen Wyles, formerly of Manor Farm and a distinctive and distinguished member of the Community for many years.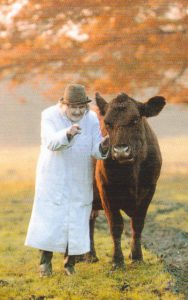 Helen Wyles
29 July 1927 – 2 April 2020
It really doesn't seem that long ago since Helen was part of most of our daily lives. Whether it was knocking at your door late at night to let you know that your milk was on the doorstep, or rounding people up to perform in the next play or concert she was preparing.
She was born at Manor Farm to Christopher and Clarissa Wyles and was the grand daughter to the Rev. Walter Wyles, Vicar of this parish 1890-1930. Her love of music led her to singing lessons with Ursula Nettleship and then to "Master Classes in Singing" at U.V.A with the late Sir Peter Pears. In 1949 she founded the "Coddenham Players", for children and adults to perform pantomimes, concerts, pageants and short plays etc., here in the village.
From 1947 she worked alongside her father with the milking herd of Red Poll cattle. Her father died in 1972 and she carried on in partnership with her mother, who died in 1983. Two years later the equipment for pasteurisation was installed, to process whole milk, skimmed milk and cream, to be sold locally until 2012.
Her dual aims in life had always been for the preservation of the Red Poll cattle and conservation of the landscape, flora and fauna.
Helen went to the nursing home in Witnesham in 2014, always talkative and bright. She faded away and died peacefully. That old brown hat will be well remembered.
Sylvia Bickers April 4th 2020